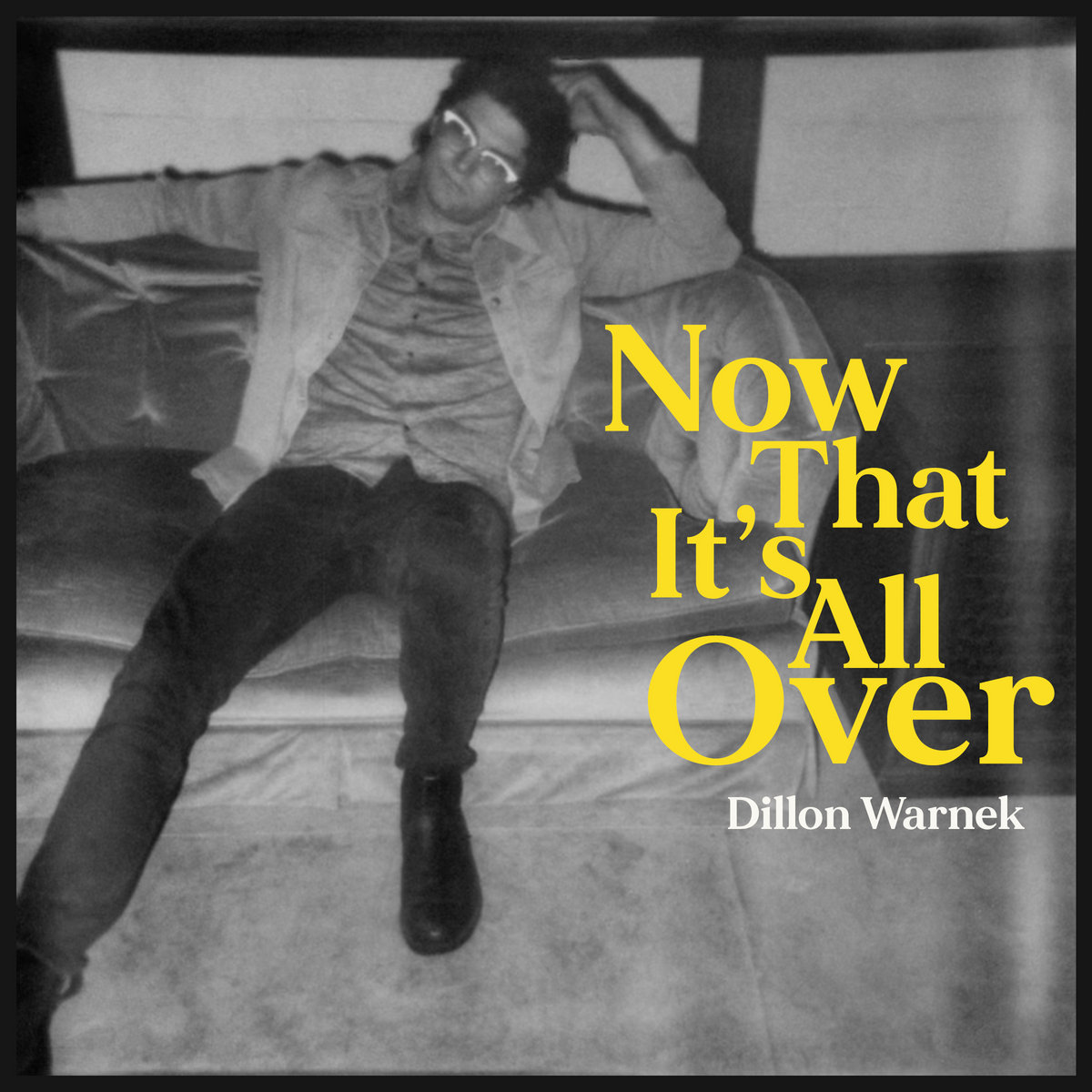 Just released on March 26th, Now That It's All Over by Nashville-based singer-songwriter Dillon Warnek is an album worth exploring. Warnek has a tendency to ramble, but that's because he has an excellent command of the English language and a way of making words bend to his rugged point of view and dry sense of humor. "He is a songwriter's songwriter," says Margo Price, whose backing band played on the new album and who offered her voice to the album's title track.
"I still haven't had the proper time to sit down and explain it all, and maybe I never will. It almost feels like it all happened to someone else," says Warnek, a longtime guitarist for Courtney Marie Andrews and seasoned sideman for hire.
"The end of a ten year relationship. Making the decision that playing music for other people's songs wasn't what I was supposed to be doing. Going from living in hotels for 8 years to moving to Nashville and living in the same place every day. I mean, who the hell moves to Nashville to quit music?"
How many songs have been written about ending a relationship and moving to a new city? It's a tough scenario, and Dillon knows that he wouldn't be where he is without his friends' support. "Gowa Gram took me in and is probably as responsible for any of the good things that have been happening in my life and music as anyone else. Every day I lived between the bruise and the bone and she was there. I love her with all of my heart."
Jamie Davis, the guitarist for Margo Price's band, is another person that Dillon has leaned on for creative support. "He was the first person to hear these songs and he booked the first session and got everyone in Margo's band to play on it. The lightbulb went off and I knew that it was time to focus on what I'd been avoiding my whole life. I needed to do what I could to make these songs happen."
Dillon connected with Drew Carroll, Chief Engineer at The Bomb Shelter Studio. Drew became the guy with who Dillon wants to make every record from now until the songs stop coming. "It's a little over two years since I've been in Nashville, and everything is different, and everything is for the better in my life," says Warnek.
"I have a strong tough woman for a partner, people think of me as a songwriter, and I have a family of people down here. It could have gone a lot different, but I don't like to think about that. I'm humbled by the response to the music, and there is still a long way to go and I'm excited for the challenge. I'm grateful for every single moment of it."
This album offers an in-the-room mix with a band that came to play. Dillon's broken up, but not broken up about it. She's doing fine without me songs, working-class hero songs, and drinking songs galore – these dive bar confessions will get you fixed up right.
LIYL: Conor Oberst, Randy Newman, Todd Snider
All songs written by: Dillon Warnek
Produced by: Jamie Davis and Drew Carroll
Engineered by: Arun Bali at Schematic Studios, Drew Carroll at Bombshelter Studios
Mixed by: Drew Carroll at Bombshelter Studios
Mastered by: John Baldwin
Album Cover: Danielle Holbert
Album Design: Ellie Kennedy
Acoustic and Singing: Dillon Warnek
Electric Guitar, Nylon Guitar: Jamie T. Davis
Bass: Kevin Black
Keys, Accordion: Micah Hulscher
Drums: Dillon Napier
Pedal Steel Guitar: Luke Schneider
Harmonica: Jeremy Ivey
Background vocals:
Good Man: Ryan Culwell,The Smucker Brothers, Josh Rennie-Hynes.
Look a Moment Longer: Molly Pardon
Titanic Thompson: Ryan Culwell, Jeremy Ivey
Tuesday. the 5th: Molly Pardon
30 Miles from Birmingham: The Smucker Brothers, Josh Rennie-Hynes, Jeremy Ivey
Now That It's All Over: Margo Price